Back to Blog
6 Best Digital Marketing Jobs for Young Professionals to Make Money in 2022
Are you fresh out of college and looking to join the digital marketing workforce?
If you said yes, you're about to embark on an exciting and artistic career path that is currently filled with opportunities that cater to your creativity.
The digital marketing industry has been growing to unforeseen stature, offering attractive salaries and career paths for those who are just starting out. Plus, the wide variety of possibilities and careers in the digital marketing spectrum make the industry attractive to professionals who enjoy dynamic projects and responsibilities.
So be it if you're just starting out after graduating from college, if you want to learn new digital marketing skills, or if you want a career pivot to start working in this fun, ever-growing industry, today we'll cover the 6 best digital marketing jobs for young professionals looking to make money in 2022.
Let's get right into it.
What Are The Best Digital Marketing Jobs to Make Money Out of College?
The digital marketing industry has a little bit for every taste.
Maybe you love expressing your creativity–creating graphics, content calendars, marketing proposals, etc. Or perhaps you prefer using the analytical side of your brain to interpret data, make strategic forecasts, and play around with A/B testing to assess diverse outcome possibilities.
Regardless of what cognitive skill interests you, there are diverse types of marketing jobs available for every type of entry-level worker. But what are the best digital marketing jobs for young professionals who are just starting out?
Below are the top 6 digital marketing entry-level jobs for you to have a rewarding and successful digital marketing career path. For the sake of this post, we will not include internships as these vastly vary in both responsibilities and income.
Top Digital Marketing Jobs For Young Professionals
Digital Marketer
Content Marketing Specialist
SEO Specialist
Social Media/Community Manager
Paid Ads Manager
Marketing Manager/Specialist
Now that we've briefly assessed your options, we will dive into each of these individually for further clarification.
DIGITAL MARKETER
The job title "Digital Marketer" or "Digital Marketing Specialist" usually conveys a generalist position. You have chances of finding this position as an entry-level in startups, or a company that is building a brand new marketing team. The natural career path from a digital marketer is to become a digital marketing manager upon learning new skills in the prior role.
Digital Marketers need to be able to switch gears quickly and make informed decisions that directly correspond to the current needs of the organization. They should also be able to prioritize their tasks and manage their time effectively in order to meet  important deadlines. Finally, they must have strong communication skills for interfacing with both internal teams and external stakeholders.
According to Glassdoor, the yearly salaries for a Digital Marketer are around 96K CHF in Switzerland, and 48K EUR  in Germany.
Daily responsibilities for this role can greatly vary, but generally include responsibilities such as:
Writing email marketing newsletters
Creating project proposals with potential clients
Overseeing social media and/or paid ads success and budget
CONTENT MARKETING SPECIALIST
Content Marketing Specialists typically bring in new clients by putting out creative content such as blog posts, landing pages, downloadables, videos, webinars, and even ebooks. These workers are skilled at writing, editing, and have professional copywriting knowledge.
These jobs are perfect if you love to write and have an analytical mind. Knowing SEO and SEM is also fundamental in such a role, as it allows the professional to make decisions based on data rather than guessing.
According to Glassdoor, the average yearly salaries for a Content Marketing Specialist are 119K CHF in Switzerland, and 58K EUR in Germany.
Daily responsibilities for this role include:
Researching content and consumer trends to ensure that content is applicable and attractive
Developing engaging content strategies to effectively reach the desired target audience and marketing goals
Producing content for different online platforms (such as blog articles, social media posts, and website copy)
SEO SPECIALIST
Normally, a basic entry-level digital marketing job description for an SEO Specialist role would require that the worker knows how to conduct keyword research and interpret data to build and inform their SEO strategy.
If you like working with metrics and using tracking tools such as Google Analytics and Google Search Console, this job is perfect for you.
Based on salary ranges on Glassdoor, SEO Specialists have average yearly salaries of 92K CHF in Switzerland, and 51K EUR in Germany.
Daily responsibilities for this role include:
Optimizing copy and landing pages for search results
Conducting ongoing keyword research for optimal ROI (be it more traffic, more leads, more conversion, etc)
Regularly checking analytics to see how websites, landing pages and keywords are performing (and to understand where traffic is coming from)
SOCIAL MEDIA MANAGER
Don't be fooled. Social Media Managers (also known as Community Managers) do a lot more than simply scrolling Instagram all day to engage with the account's community. This is an important and demanding role that requires you to set a social media growth strategy, usually across a multitude of social media platforms.
By working closely with designers and content creators, a social media manager is part of the team responsible for sharing and promoting content that attracts new users and helps customers trust a certain brand.
According to Glassdoor, a Social Media Manager makes a yearly salary of 100K CHF in Switzerland, and 43K EUR in Germany.
Daily responsibilities for this role include:
Analyzing engagement data
Identifying common trends in customer interactions
Planning digital campaigns to build strong online communities
PAID ADS MANAGER
Paid ads managers are experts in both digital advertising and in search engine marketing (SEM). Professionals in this role usually works with large budgets (depending on the company's size, its ad spend could be up to millions of euros every year). These marketing professionals' duties include collaborating with designers and copywriters to get the images and strategic copy used in ads, analyzing ad performance, and making tweaks to improve them after A/B testing.
Data on Glassdoor show that a Paid Ads Marketer averages a yearly salary of 107K CHF in Switzerland, and 66K EUR in Germany.
Daily responsibilities for this role include:
Collaborating with clients to determine advertising goals
Running campaigns to introduce prospective customers to new product releases and to build brand awareness
Analyzing results to determine what was successful (and what to improve)
MARKETING MANAGER
Marketing managers are the ultimate umbrella term, encompassing those responsible for potentially any and all marketing initiative. This is a broad role where you could be handing digital marketing and traditional marketing campaigns. A marketing manager could be in charge of newer digital functions such as ads, email marketing, SEO/SEM, or more traditional marketing efforts such as direct sales, print advertising, negotiating partnerships, trade shows, interfacing with clients, etc.
According to Glassdoor, the average yearly salaries for a Marketing Manager are 100K CHF in Switzerland, and 50K EUR in Germany.
Daily responsibilities for this role include:
Overseeing all marketing campaigns
Implementing strategy
Developing and implementing a social media marketing plan
Monitoring the company's brand on social media.
Want to Pursue Any of These Entry-Level Digital Marketing Jobs?
Digital marketing is a wonderful option for anyone looking into starting a dynamic and motivating career path that is filled with opportunities and well-paying salaries, even if you are an entry-level professional.
We're here to help. TieTalent connects Digital Marketing and IT talents with top companies in Switzerland and Germany. Sign up in two minutes and let us help you find your next digital marketing job!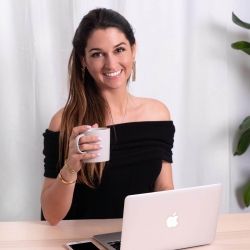 Ana Palombini
Conversion Content Writer at AP Copywriting
Ana Palombini is the voice behind AP Copywriting, where she provides content marketing for SaaS, entrepreneurs, and marketing agencies. When she is not typing 'till her fingers are numb, you'll find Ana watching Friends for the millionth time or having late-night sushi from her couch (or both). Say hi on LinkedIn or check out her website.
Back to Blog